In the Afterlight (The Darkest Minds #3)
by Alexandra Bracken
Talon (Talon #1)
by Julie Kagawa
Waterfall (Teardrop #2)
by Lauren Kate
Compulsion (The Heirs of Watson Island #1)
by Martina Boone
Lançamentos a 28 de Outubro
Outubro está quase a terminar e estes são os últimos lançamentos de um mês bastante rico em novidades.
Esta é uma trilogia que tenho debaixo de olho há bastante tempo e que espero ler em breve agora que está completa :p
Sinopse: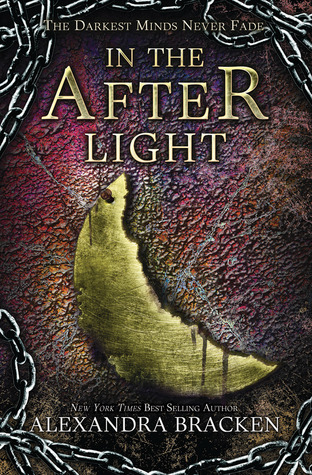 Ruby can't look back. Fractured by an unbearable loss, she and the kids who survived the government's attack on Los Angeles travel north to regroup. With them is a prisoner: Clancy Gray, son of the president, and one of the few people Ruby has encountered with abilities like hers. Only Ruby has any power over him, and just one slip could lead to Clancy wreaking havoc on their minds.
They are armed only with a volatile secret: proof of a government conspiracy to cover up the real cause of IAAN, the disease that has killed most of America's children and left Ruby and others like her with powers the government will kill to keep contained. But internal strife may destroy their only chance to free the "rehabilitation camps" housing thousands of other Psi kids.
Meanwhile, reunited with Liam, the boy she would-and did-sacrifice everything for to keep alive, Ruby must face the painful repercussions of having tampered with his memories of her. She turns to Cole, his older brother, to provide the intense training she knows she will need to take down Gray and the government. But Cole has demons of his own, and one fatal mistake may be the spark that sets the world on fire.
Talon (Talon #1) by Julie Kagawa
Nova série de Julie Kagawa, autora de The Iron Fey series e da trilogia Blood of Eden (The Immortal Rules). Depois das fadas e dos vampiros é a vez dos dragões! *.*
Sinopse: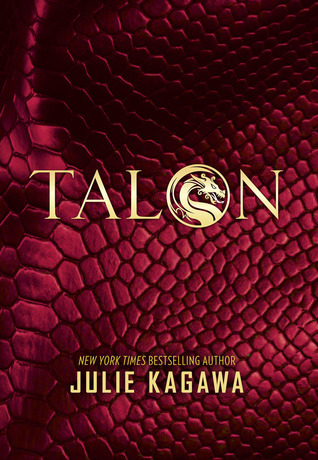 Long ago, dragons were hunted to near extinction by the Order of St. George, a legendary society of dragon slayers. Hiding in human form and growing their numbers in secret, the dragons of Talon have become strong and cunning, and they're positioned to take over the world with humans none the wiser.
Ember and Dante Hill are the only sister and brother known to dragonkind. Trained to infiltrate society, Ember wants to live the teen experience and enjoy a summer of freedom before taking her destined place in Talon. But destiny is a matter of perspective, and a rogue dragon will soon challenge everything Ember has been taught. As Ember struggles to accept her future, she and her brother are hunted by the Order of St. George.
Soldier Garret Xavier Sebastian has a mission to seek and destroy all dragons, and Talon's newest recruits in particular. But he cannot kill unless he is certain he has found his prey: and nothing is certain about Ember Hill. Faced with Ember's bravery, confidence and all-too-human desires, Garret begins to question everything that the Order has ingrained in him: and what he might be willing to give up to find the truth about dragons.
Sinopse:
Can you hear Atlantia breathing?
For as long as she can remember, Rio has dreamt of the sand and sky Above—of life beyond her underwater city of Atlantia. But in a single moment, all her plans for the future are thwarted when her twin sister, Bay, makes an unexpected decision, stranding Rio Below. Alone, ripped away from the last person who knew Rio's true self—and the powerful siren voice she has long hidden—she has nothing left to lose.
Guided by a dangerous and unlikely mentor, Rio formulates a plan that leads to increasingly treacherous questions about her mother's death, her own destiny, and the complex system constructed to govern the divide between land and sea. Her life and her city depend on Rio to listen to the voices of the past and to speak long-hidden truths.
Segundo livro da duologia (?) Teardrop. O primeiro volume já foi traduzido em Portugal com o nome Lágrima.
Sinopse:
Eureka's tears have flooded the earth, and now Atlantis is rising, bringing with it its evil king, Atlas. Eureka is the only one who can stop him, but first she must learn how to fight. She travels across the ocean with Cat, her family, and Ander, the gorgeous and mysterious Seedbearer who promises to help her find Solon, an enigmatic lost Seedbearer who knows how to defeat Atlas.
Once on land, Eureka is taunted by gossipwitches, a group of displaced Atlantean sorceresses, and ambushed by locals struggling to survive amid the destruction her tears have wrought. And she feels no closer to facing Atlas or saving the world when Solon lets slip that love is Ander's weakness, and that any affection he feels toward her makes him age faster.
Trying to make sense of the dark world her sorrow has created, Eureka receives startling insight from an enchanted pond. Her bewildering reflection reveals a soul-crushing secret: if she's strong enough, Eureka can draw on this knowledge to defeat Atlas—unless her broken heart is just what he needs to fuel his rising kingdom...
In Waterfall, Eureka has the chance to save the world. But she'll have to give up everything—even love.
Sinopse:
All her life, Barrie Watson has been a virtual prisoner in the house where she lives with her shut-in mother. When her mother dies, Barrie promises to put some mileage on her stiletto heels. But she finds a new kind of prison at her aunt's South Carolina plantation instead--a prison guarded by an ancient spirit who long ago cursed one of the three founding families of Watson Island and gave the others magical gifts that became compulsions.
Stuck with the ghosts of a generations-old feud and hunted by forces she cannot see, Barrie must find a way to break free of the family legacy. With the help of sun-kissed Eight Beaufort, who knows what Barrie wants before she knows herself, the last Watson heir starts to unravel her family's twisted secrets. What she finds is dangerous: a love she never expected, a river that turns to fire at midnight, a gorgeous cousin who isn't what she seems, and very real enemies who want both Eight and Barrie dead.